Sami Yusuf (born July 1980) is a British Muslim singer-songwriter, Yusuf's music comprises mostly of songs to do with Islam and being a Muslim in today's world. He also deals with many social and humanitarian issues in his music. Presently, he is fast becoming a very popular figure in the Islamic world, having made videos for several of his tracks; according to The Guardian, he "has good claim to being the most famous British Muslim in the world". In 2006 Time Magazine called him "Islam's biggest rock star".
Biography Sami Yusuf was born in 1980 in the city of Tehran, Iran and moved to Britain when he was three, and he was raised in West London.[5] He comes from an ethnic Azeri family. At a very young age he started to play various musical instruments and enthusiastic in keeping interest in singing and composing. He was accepted as a composition student at the Royal Academy of Music in London. In addition to his education in Western harmonics and composition, Sami has a solid understanding of the Iranian and Middle Eastern modes (or Maqams) and is thoroughly acquainted and familiar with both East and Western musical traditions
Career Sami has been featured by Time Magazine as "Islam's biggest rock star" and has appeared on the covers of dozens of other mainstream publications around the world. Sami is devoutly spiritual and often uses his art and music as a means of promoting the messages of love, mercy, peace and tolerance, whilst encouraging the youth to be proud of their identity. Sami Yusuf's songs have revolutionalized the nasheed industry and have given birth to a new genre of modern Islamic music. His latest song You Came To Me has been released as an immense hit all over the world.
2003-2005: First albums Sami's first album Al-Mu'allim was self-produced and released in July 2003 and attained huge success. His second album, My Ummah, which was released in 2005, comes in two versions, a musical version and one with just percussion. He creates many of his songs in different languages mainly in English, Arabic, Urdu and Turkish and Persian. He has held concerts all around the world, and is albums were mainly popular among young Muslims, in particular Turkey, where his concert gathered up to 250,000 people, at Istanbul in 2007.
Disputed third album A third album, Without You, was planned for release during mid-2008 but was delayed due to a contractual dispute. An album by that name was then launched by Awakening Records in January 2009. Sami Yusuf subsequently stated on his official website that this album was released without his knowledge or consent, and is a compilation of demos and sketches with a quality inferior to his normally high standards. He has called for fans to boycott it. However as of April 2009 Awakening Records continues to feature the album prominently on the Sami Yusuf part of its website, saying that the album is "a complete and high quality album" consisting of "11 professionally recorded tracks".Awakening says it has already made "substantial" payments to Yusuf for his third album, which has been advertised on its website since May 2008. Yusuf had previously released two albums with Awakening, and signed for a total of five. Asked whether Awakening had paid him in full in July 2009, Yusuf indicated they had not.
Charity work Sami is known for his charity work which he takes out of his own time to help the needy all around the world. In October 2007 Sami traveled to Sudan and visited Sudanese orphanage as part of support mission to raise awareness for sick children and AIDs victims in the region. Sami urged prayers for peace, recovery and donations through the Muslims to contact their local charities. This was after performing at Wembley Stadium where all profits went to Islamic Relief to help the crisis in Darfur.[17] A year later, in October 2008 Sami traveled to South Africa and in between concerts on his South Africa tour, Sami took the time to visit and help cheer up the children at the The Agape Children's Orphanage.. In Jan 2009 Sami travelled to Turkey where he was invited by HE Emine Erdoğan, wife of the Turkish Prime Minister Recep Tayyip Erdoğan, to attend a rally in support of peace in Gaza.. A month later, in February, 2009 Sami Yusuf has taken part in a Telethon to raise money for the victims of Gaza. The telethon took place in Doha, Qatar on 31 January, 2009 in conjunction with The Al Fakhoora Campaign to raise money for the bereaved and destitute of Gaza. To date over $100 million has been raised.
Discography Al-Mu'allim
• Released: July 2003
• Total Sales: More than 2 million
• Singles: "Al-Mu'allim" and "Supplication"
My Ummah
• Released: September 2005
• Total sales : More than 3 million
• Singles: "Hasbi Rabbi", "Mother" and "Munajat"
Without You (disputed)
• Released: January 2009
• Total sales : 1,750,000
• Singles: "Asma Allah" "Forever Palestine"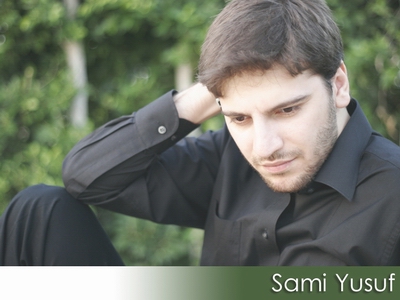 Amin Ortega

عضو محترف





عدد المساهمات

: 543


نقاط

: 30250


تاريخ التسجيل

: 28/10/2009


العمر

: 26


الموقع

: لا داعي




---
صلاحيات هذا المنتدى:
لاتستطيع
الرد على المواضيع في هذا المنتدى